«We didn't think it would go this far. Now I use BAD with my team to approach new projects.»
– Cristian Confalonieri, Creative Director at Studiolabo

«We were impressed by the efficacy of the product. It really helps you foster your strategy and business understanding.»
– Alessandra Petromilli, CXO at Hinto
We are trusted by over 150,000 creatives worldwide 🦊
Some of them work here:
FREE SHIPPING
With orders of $50 or more you get Free Shipping worldwide.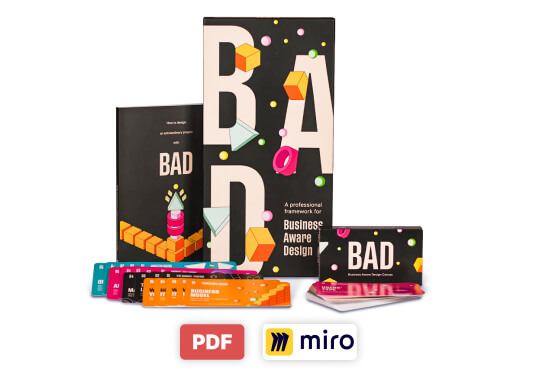 BAD + Digital
$189.90

$129.90 (Shipping incl.)

ONE Pack of BAD, our product for Business Aware Design + Digital version.

It includes:
✅ 1x BAD big Pack;
✅ 1x Manual (160 pages full color);
✅ 41 cards;
✅ Printable PDF cards;
✅ Miro Template that you can use during workshops.


$129.90 - Buy now!

100% secure payment with Paypal and Stripe.
Shipping with USPS in 3-4 business days.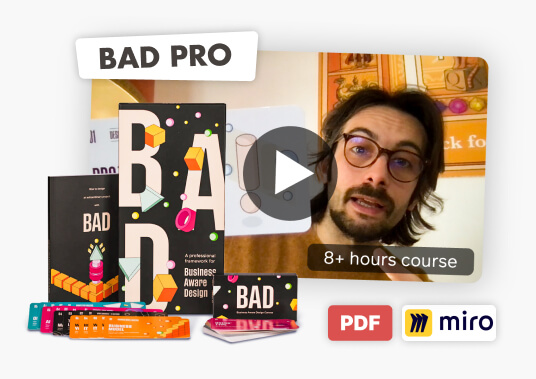 BAD PRO

pro choice
$289.00

$199.90 (Shipping&Taxes incl.)

ONE Pack of BAD, our product for Business Aware Design + Digital version + the professional video course.

It includes:
✅ 1x copy of BAD Canvas (Pack + 160 pages full color Manual + 42 cards);
✅ Printable PDF cards;
✅ Miro Template that you can use during workshops.
✅ Lifetime Access to BAD PRO, a university level video course of 8+ hours of recorded lessons given by the author of BAD, one of the most renowned UX designers in Italy. If you are serious about building successful projects or if you want to give workshops with the tool this is the course for you.


$199.90 - Buy now!

100% secure payment with Paypal and Stripe.
Shipping with USPS in 3-4 business days.
Drastically increase your chances to succeed
BAD is a tool made of 41 cards and a manual that allows you to get the overall view of any project and to understand how to find your place in the market and create value.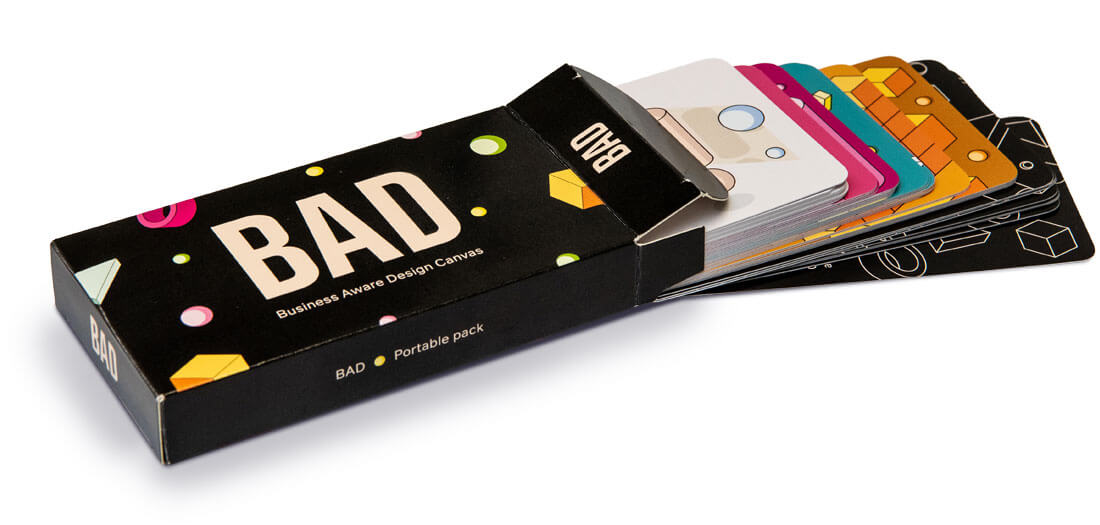 you can design products that work, both on a market positioning level and a financial return level;
you can make more conscious design choices, while keeping business aspects in mind;
you can plan your future actions (product, process, business model innovation);
you can avoid arguments and friction with stakeholders, while mantaining a clear view of the project
👉 Use a Business Aware Design approach that can change the faith of your project, it can increase the chances to acquire more clients and help your company grow.
BAD is super easy to use
Using BAD is very easy: you just place the cards wherever suits you – tables, floors, doors, or any other available surface – then you proceed to fill the structure using post-it.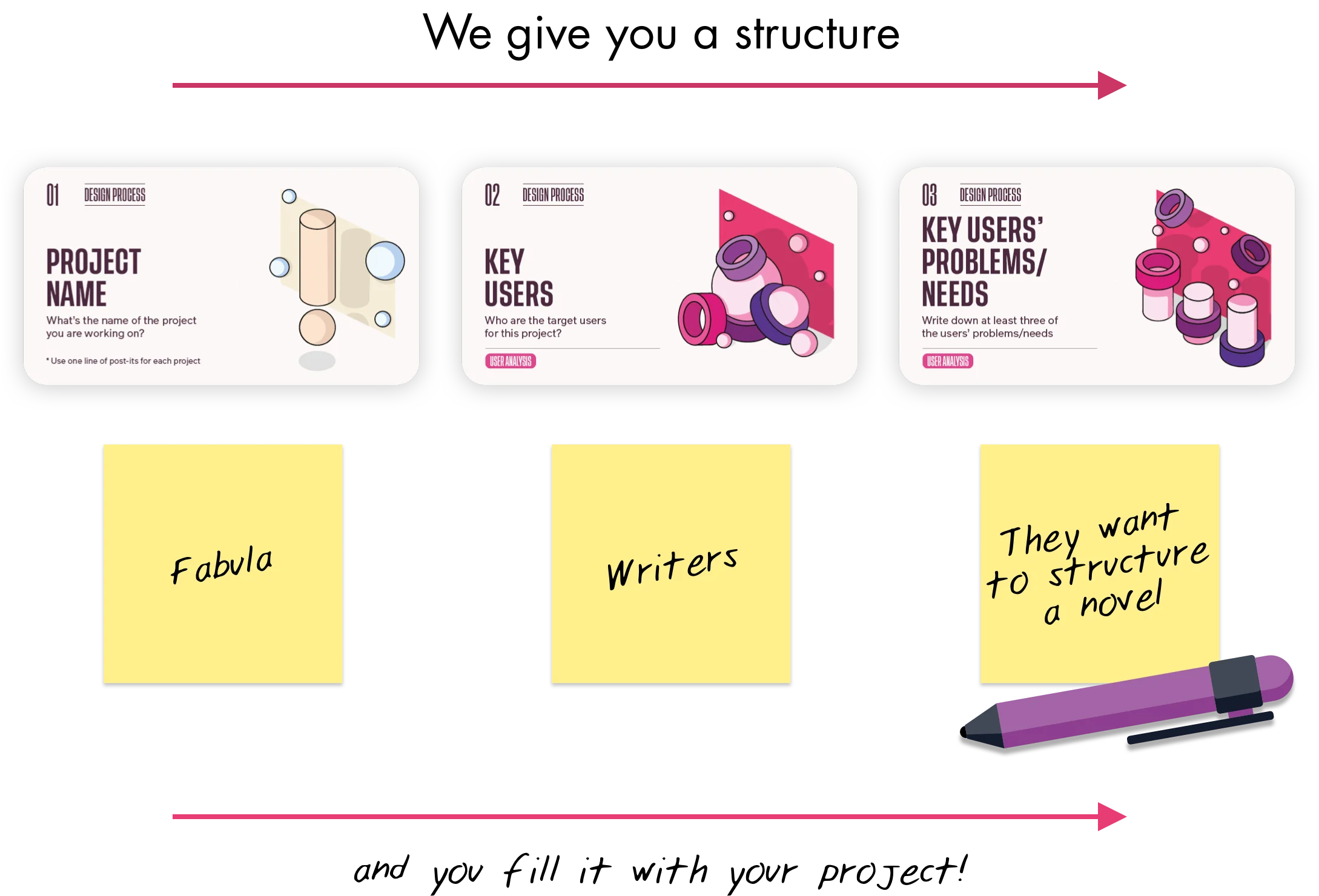 Without a business-oriented approach you are likely to fail
👉 Design Thinking and User-Centered Design are not enough.
After years as creative leaders and entrepreneurs, we realized that in order to create a product that works, it is not enough to design while only keeping in mind the users, their needs and possible solutions. To make a product or service sustainable from a financial point of view, you must take the business aspect into consideration.
BAD is designed to increase your chance of success
In making you connect the three most important areas of design – Users, Competitors and Business Model – BAD helps you design consciously avoiding any waste of time, money and resources both for you and your company.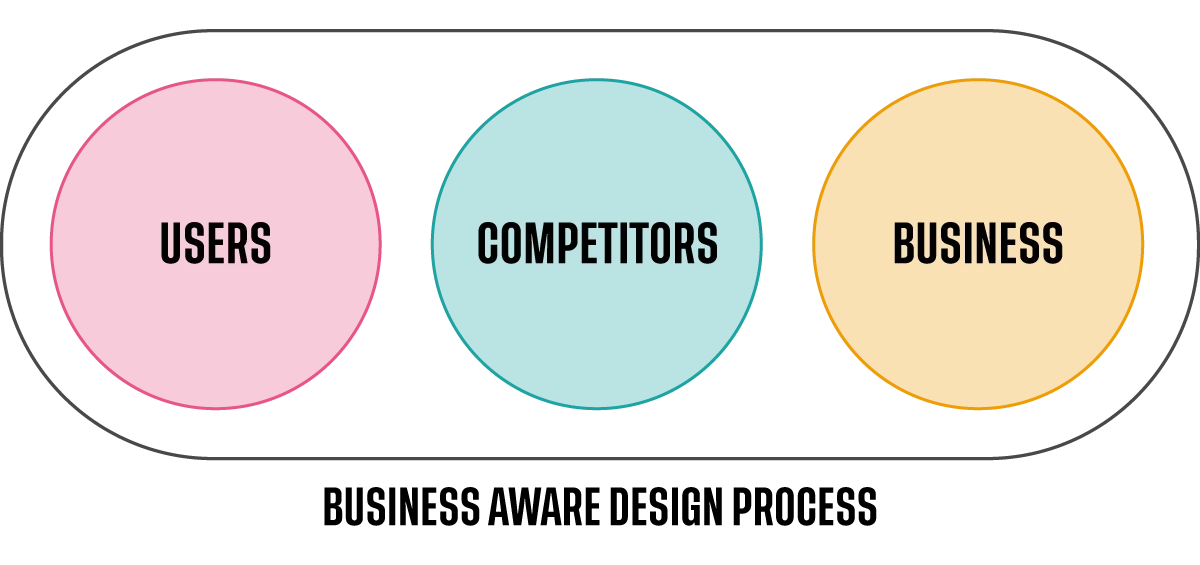 Ok, I want this super power
Step 1: Design Process
You start from the Design Process, where you try to fill in every aspect that you are aware of, like:
Key Users;
Problems and needs of Key Users;
Solutions;
Requirements.
And everytime something doesn't add up, or you you think you are working with partial ideas or information, you can dive into one of the other specific areas.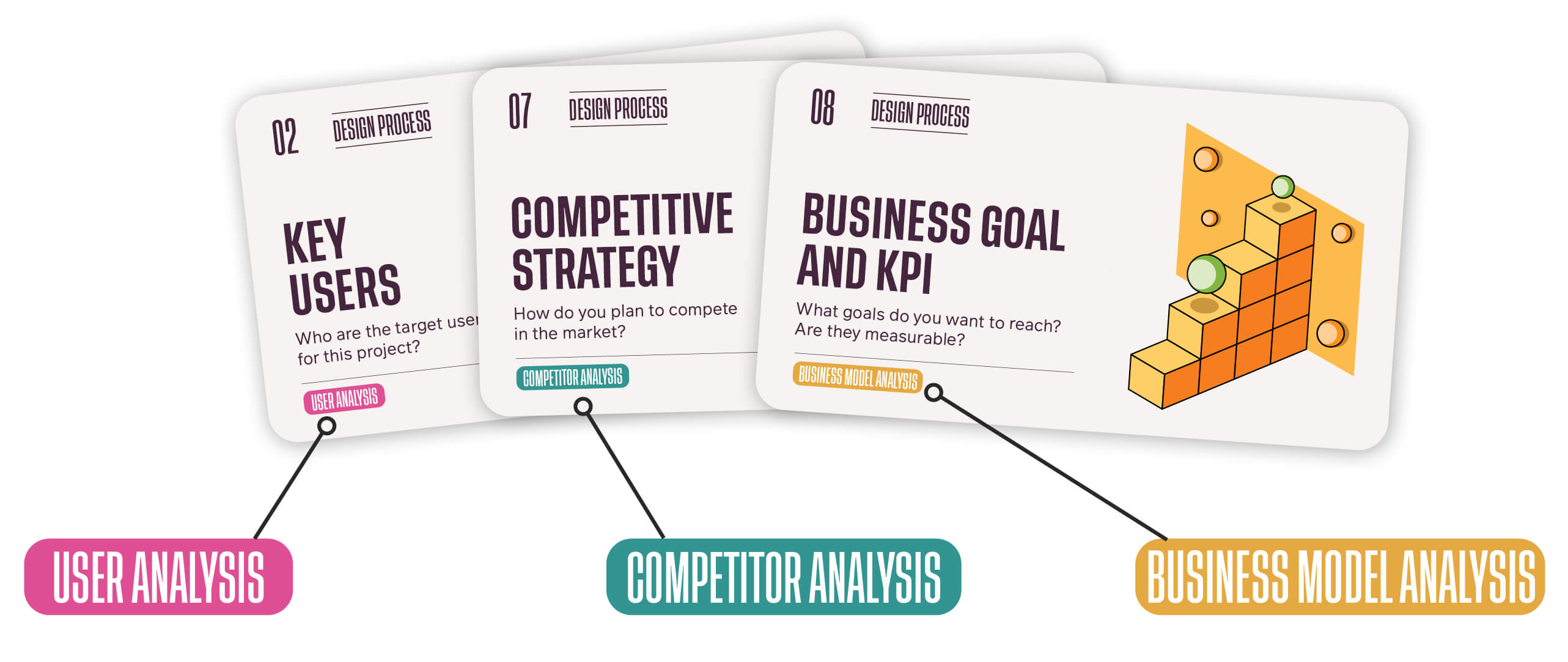 Step 2: User Analysis
Who are your target users and what do they need? 👉 A product that doesn't tackle a need is useless. If you design something useful, your chances at success will increase.
You can then analyze how users interact with the product using the User Journey. When do they find out about the product? Do they buy it? What can you do to improve the process?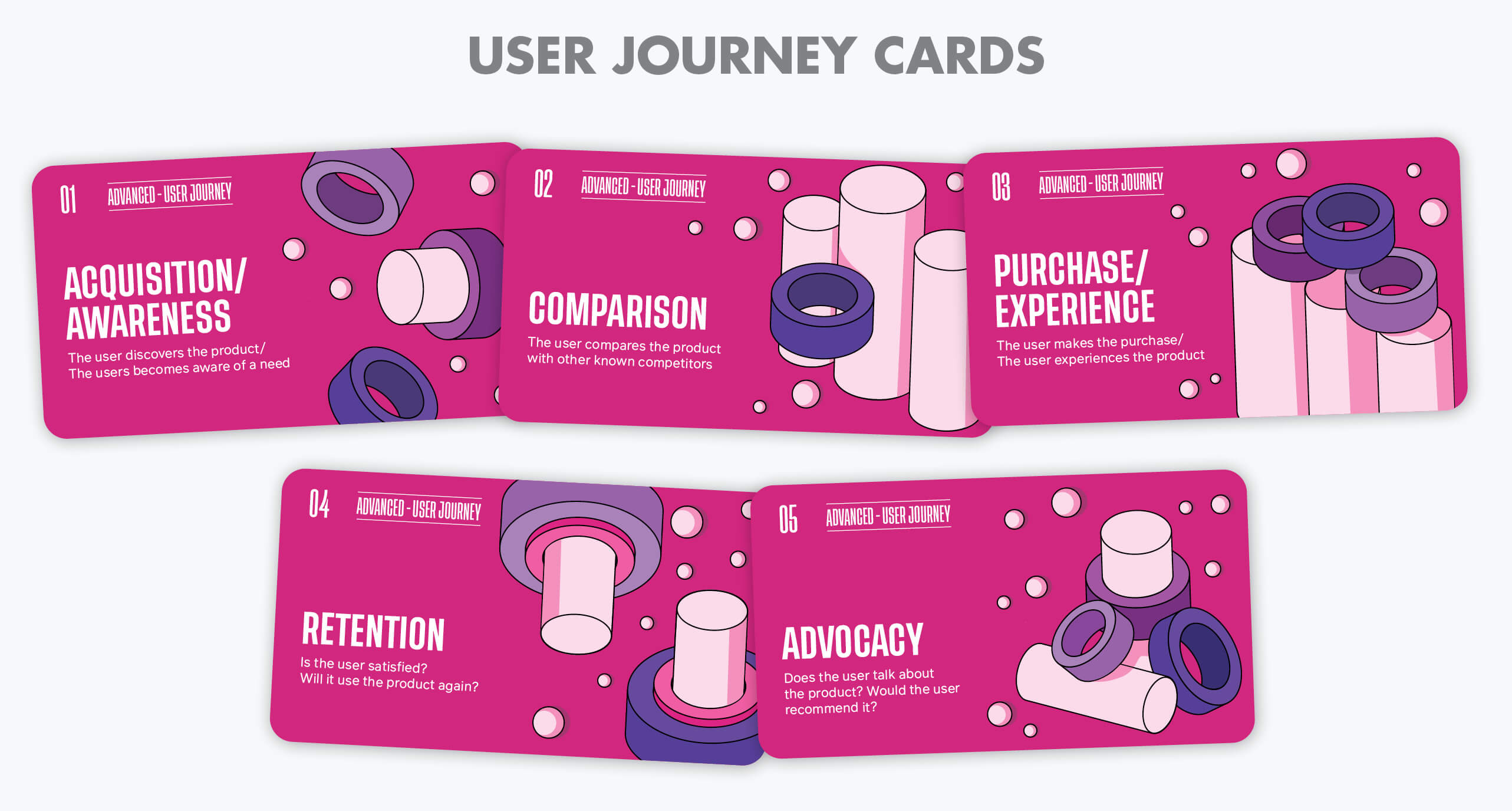 Step 3: Competitor Analysis
Who are your competitor? On what values do they operate? And how can your product...win? 👉 If you cannot find a good competition strategy and you don't even know what the UVP is, there's no branding in the world that can save you.
* BAD also helps you build Blue Ocean strategies (yep, it is that good 😉)
Step 4: Business Model Analysis
A project that doesn't generate value is a failure (or a hobby). If you want your project to have a future, if you want it to grow, if you want to have employees and be sustainable, you need to know how to generate value.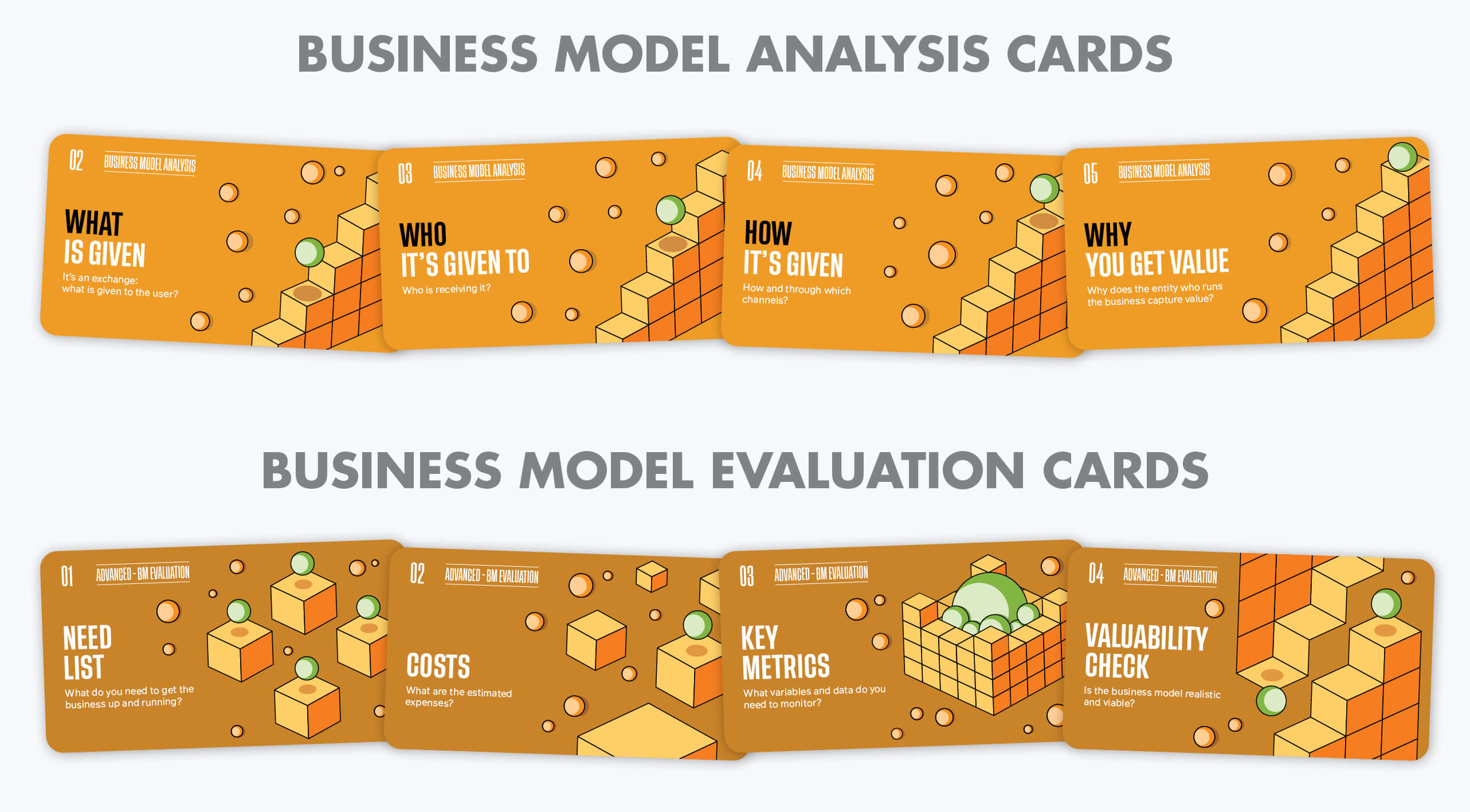 In the advanced section of BAD, you'll be forced to validate a business model using the Discovery-driven Planning technique. You want to avoid throwing everything away? Then finding the Key Metrics would be a good idea. Open Excel and crunch some numbers. Is this working or should you switch business model?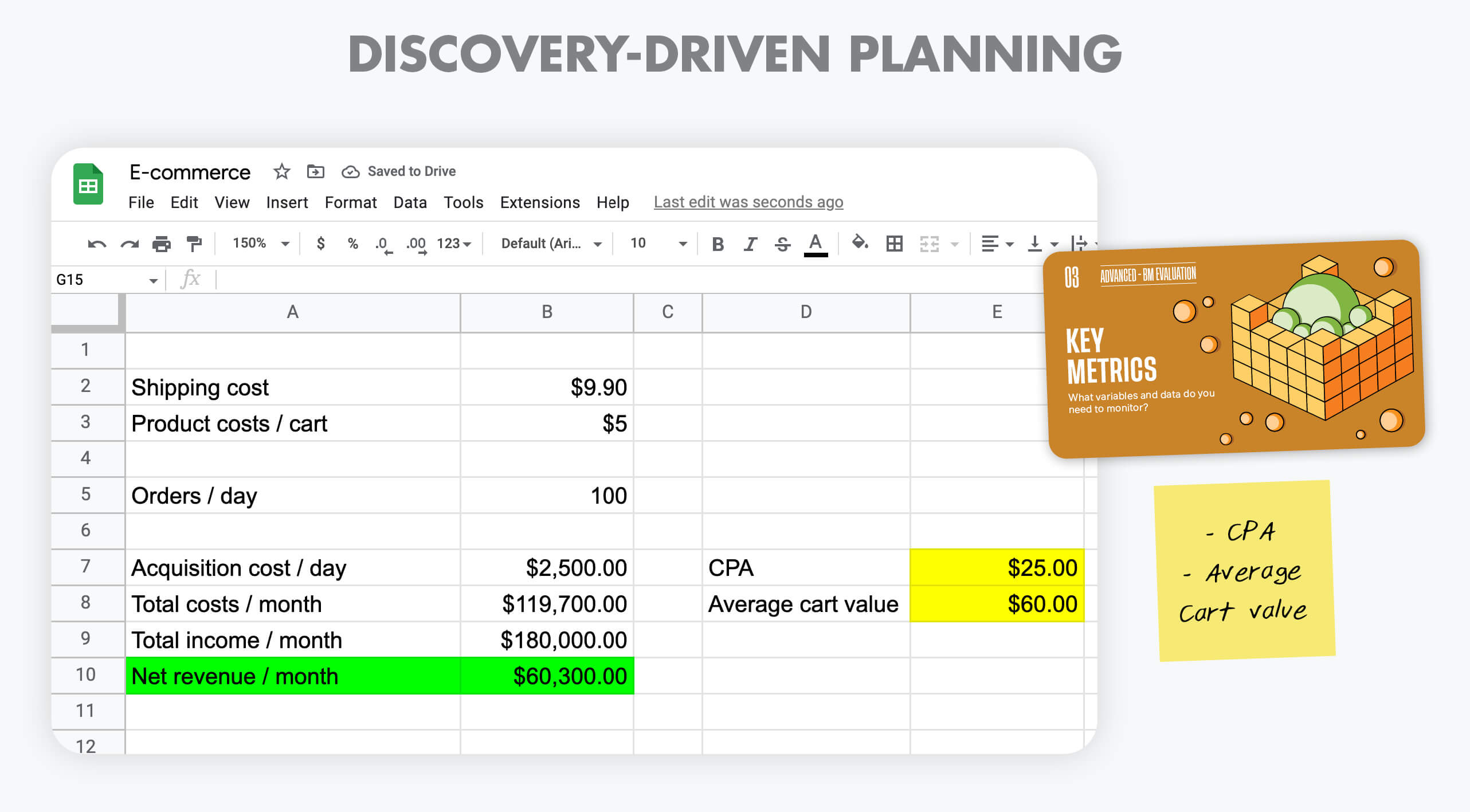 Step 5: Iterations and Planning
Did you know that most projects fail within the first year, even if at first they were successful? It happens because often designers and entrepreneurs blindly try too many things.

BAD's black cards will help you become aware also while deciding which road to pick. It supports you in picturing different scenarios (innovation of the product, process or business model) and to calculate the impact your choices will have.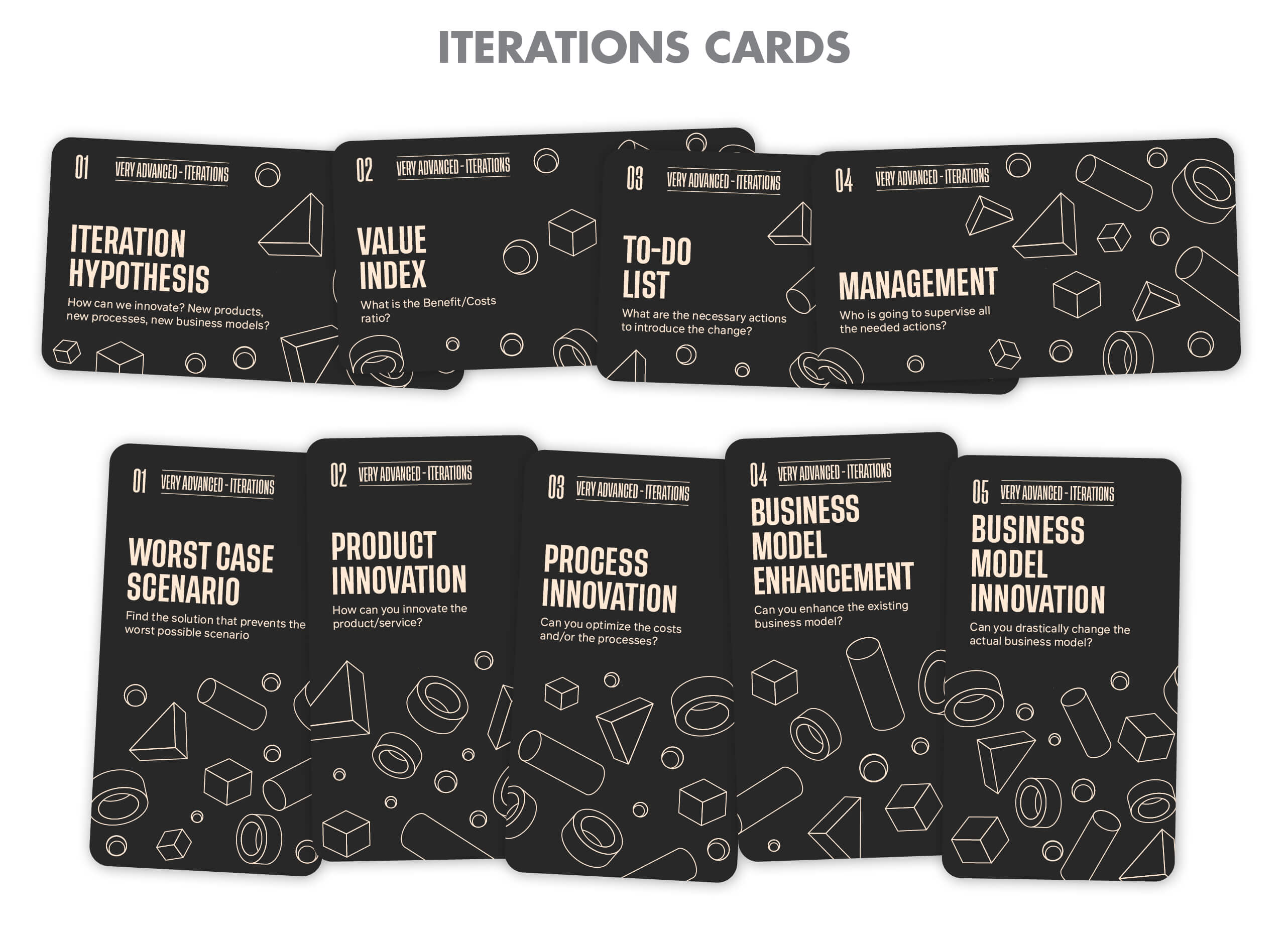 Unboxing the magic ❤️
In the big box of BAD you will find:
A 200 pages full-color manual "How to design a successful project with BAD" filled with several real-life case studies.
41x beautifully crafted cards.
A portable box for the cards.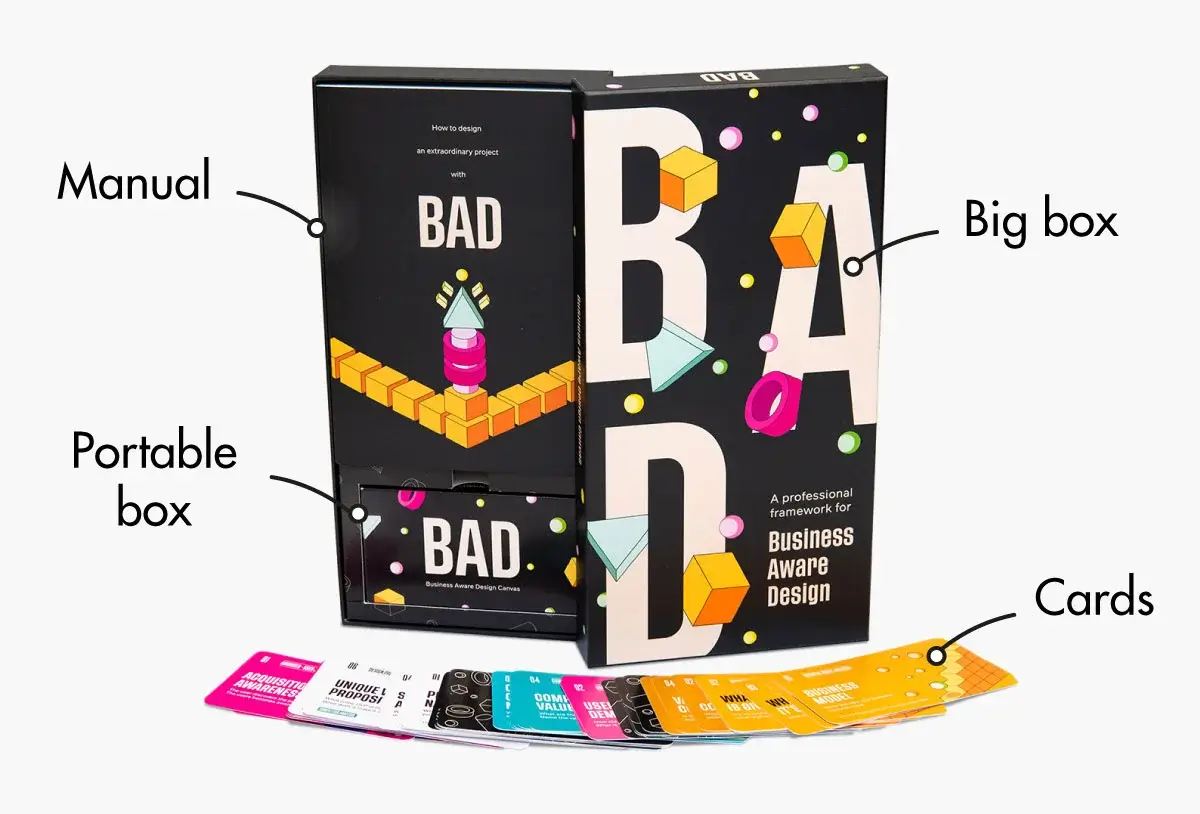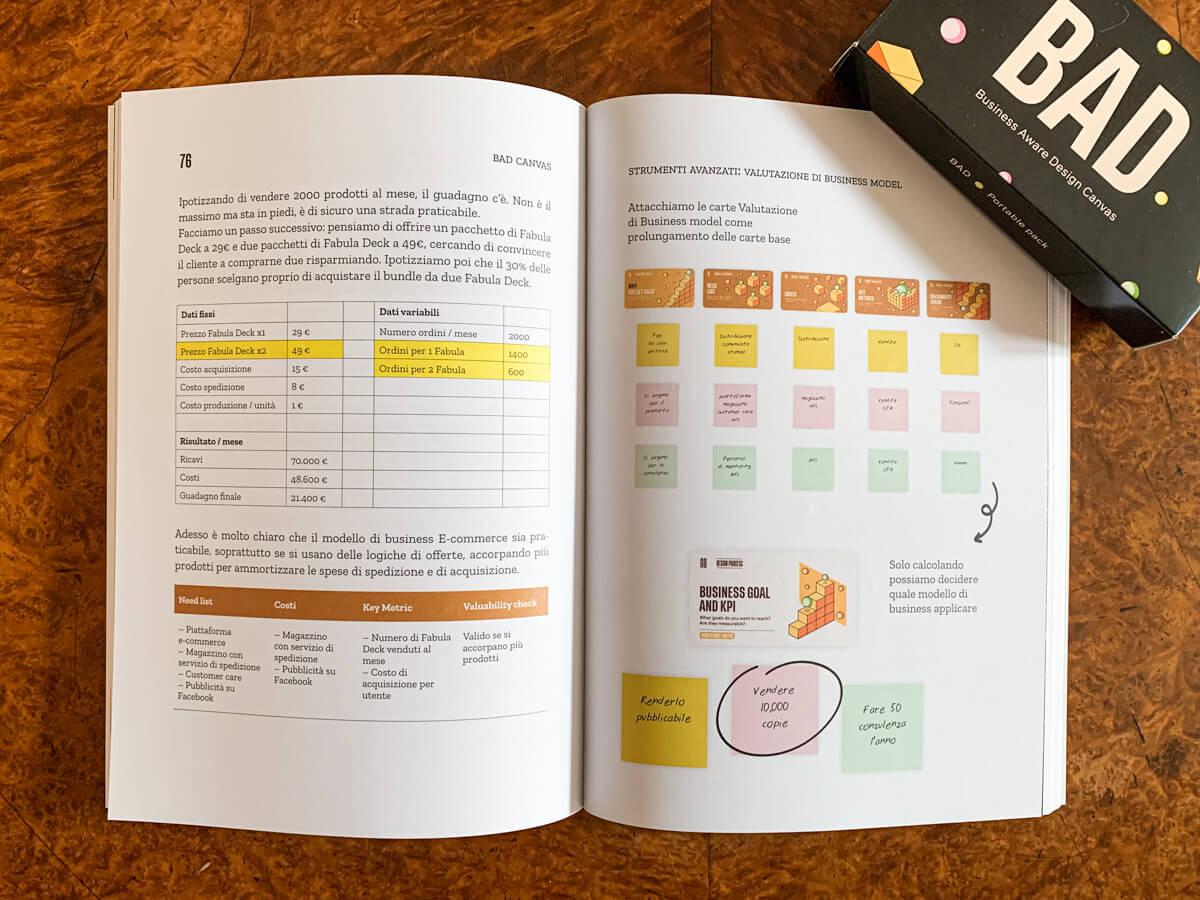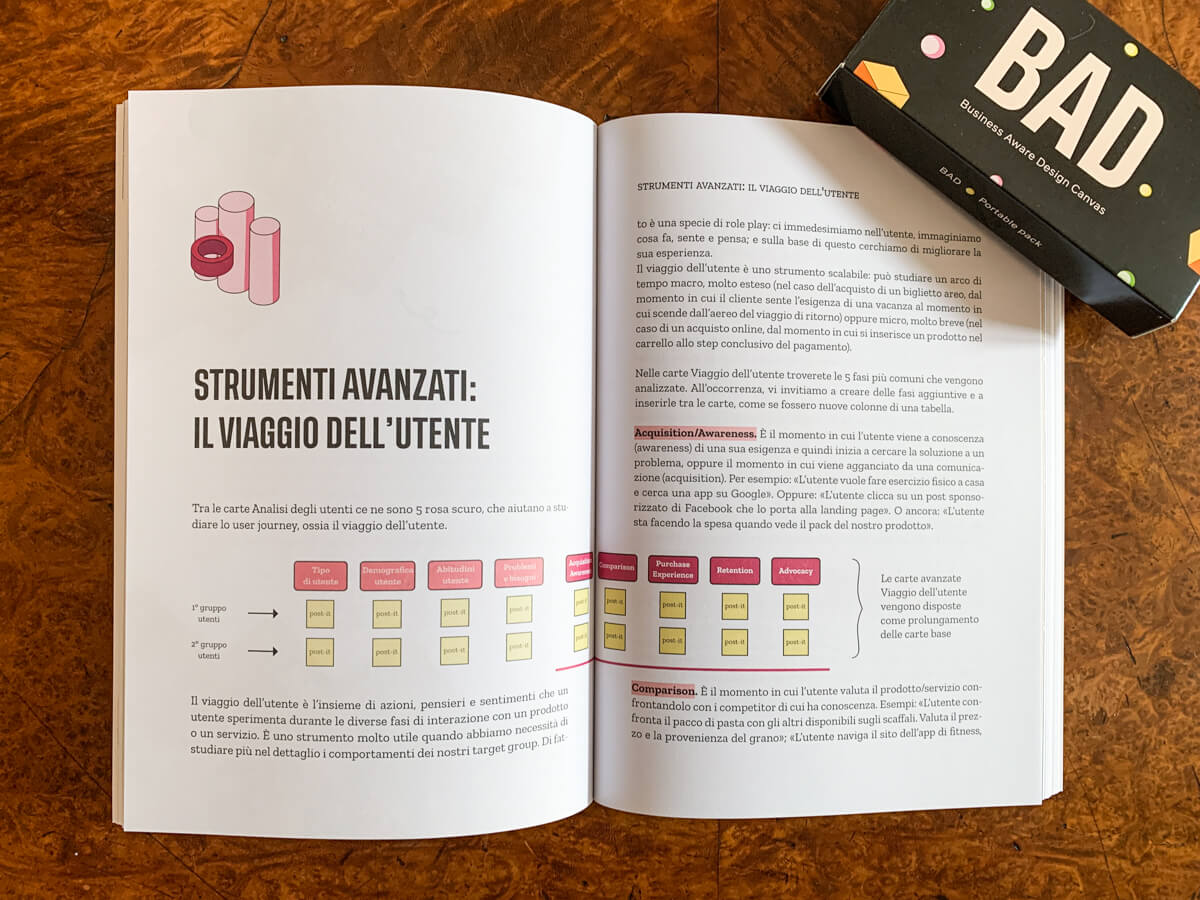 So are you BAD?
BAD was designed and tested for: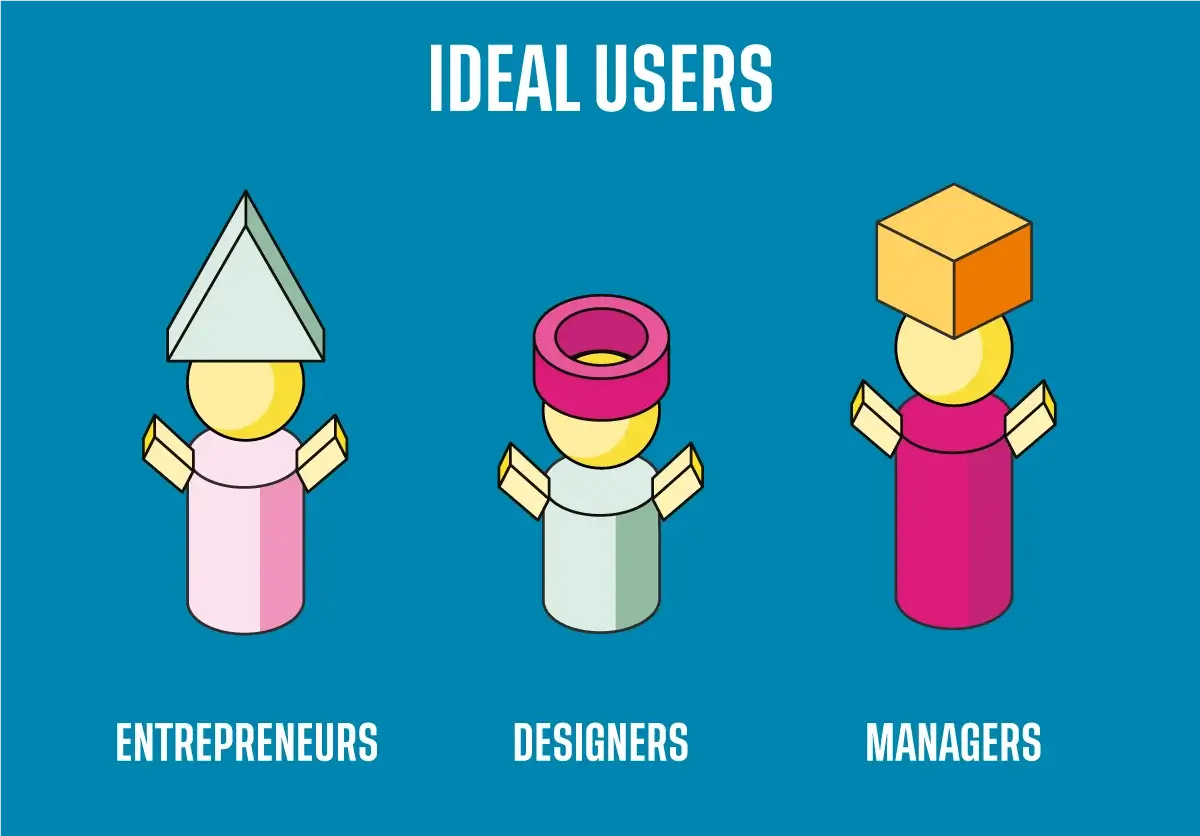 If you have your own company/project, BAD helps you increase the chances of being successful.
If you are a freelancer, BAD helps you make your proposals stronger and more interesting for decision makers.
If you work for a company, BAD helps you stand out and achieve career advancements.
Trusted by over 150'000 creatives
"BAD is the best framework I've used so far. Better than Business model canvas and lean canvas. It's a real game changer."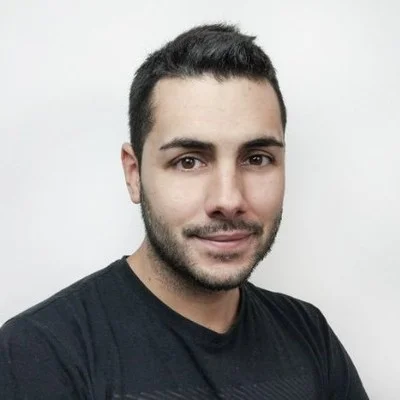 Marco Farmachidi, Lead Designer @ Handso
Level Up with BAD PRO 🔥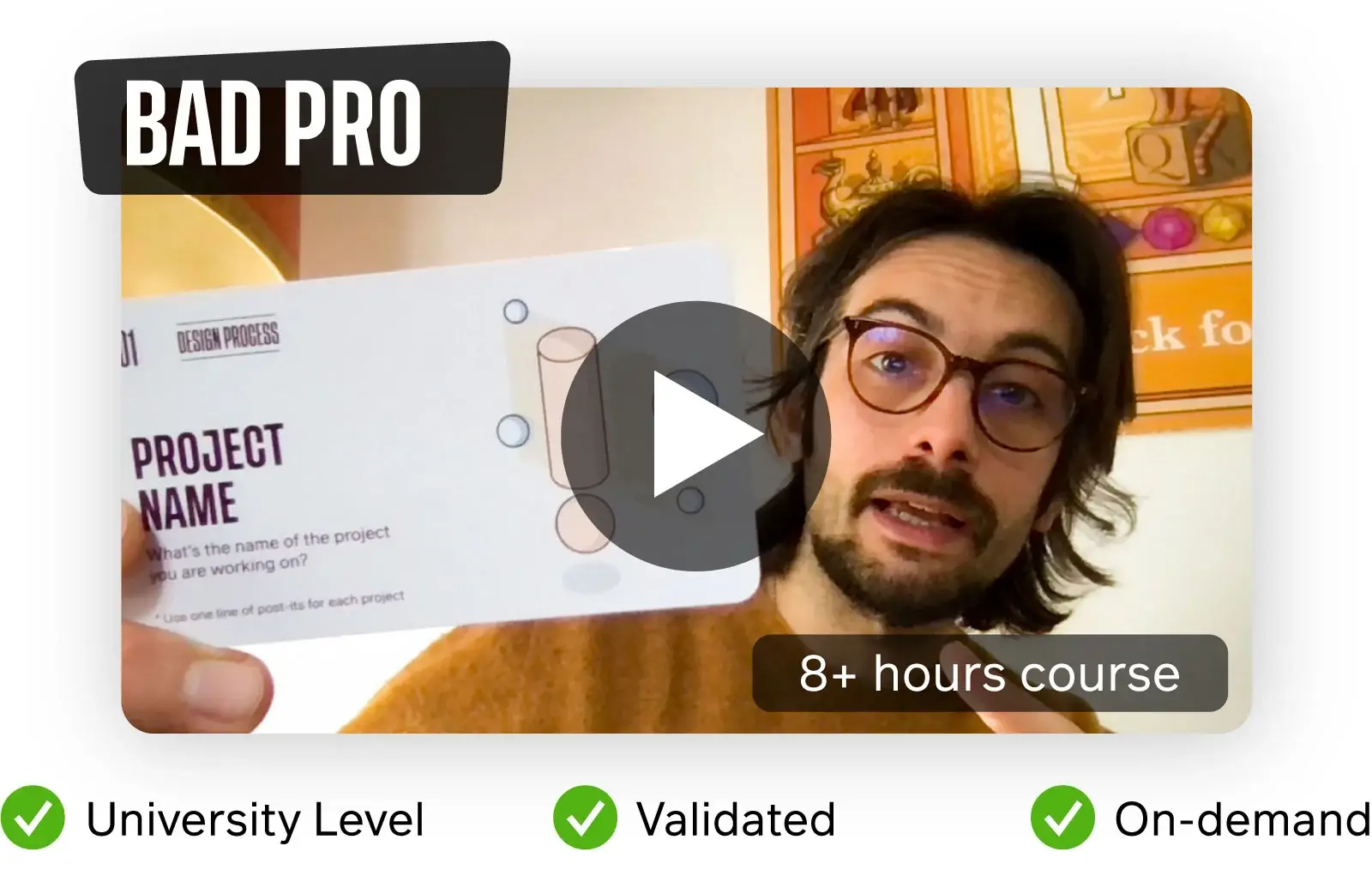 A University Level Course based on the one we hold in one of the best Design universities.
BAD PRO is our 8+ hours University Level (recorded 🎬) course that will help you get the most out of BAD in the least possible amount of time. It's the same one we held at IAAD, one of the most important Design universities in Italy.

Your professor will be Matteo di Pascale, BAD's author and one of the most renowned UX designers in Italy.

Lessons:
Epic Fails and how to avoid them with Business Aware Design
In-depth User Analysis
In-depth Competitor Analysis
In-depth Business Model Analysis
How to get the Big Picture
Would you invest in your own project? Critical Thinking 101
Discovery-Driven Planning: how to forecast success
Maintenance of a successful project
How to use BAD on a real client's brief
How to prioritize design and business choices
Developed with the best experts
It took almost a year of research, development and testing for BAD to see the light of day. The project was supervised by Matteo di Pascale, one of the most awarded UX designers in Italy, who synthesized the best available books about Design, Strategy and Business, resulting in this usable method.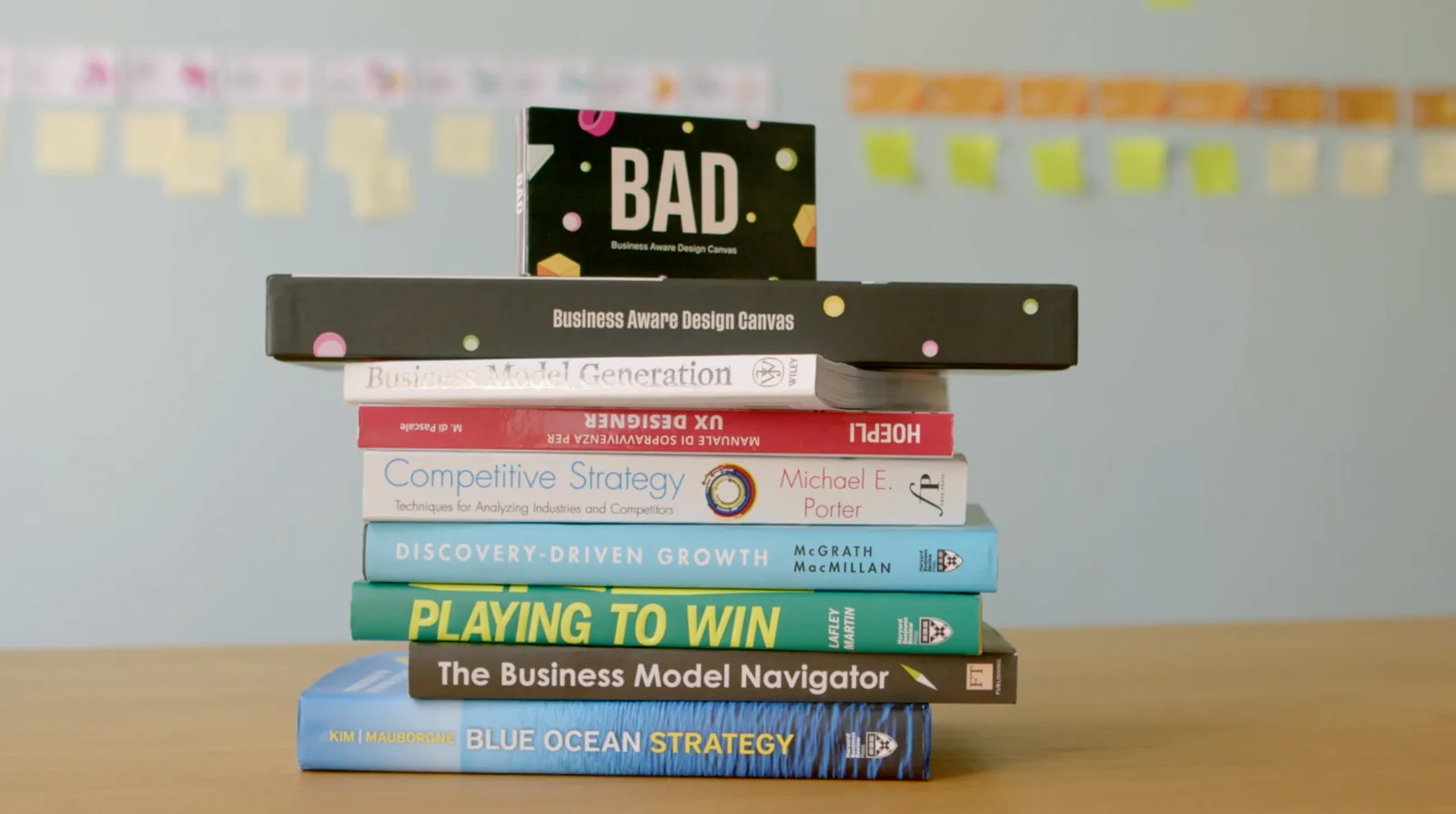 We worked with Studiolabo, one the best design studios in Italy. They took care of the Graphic Design, providing an accessible and playful experience for the users, and of the User Testing.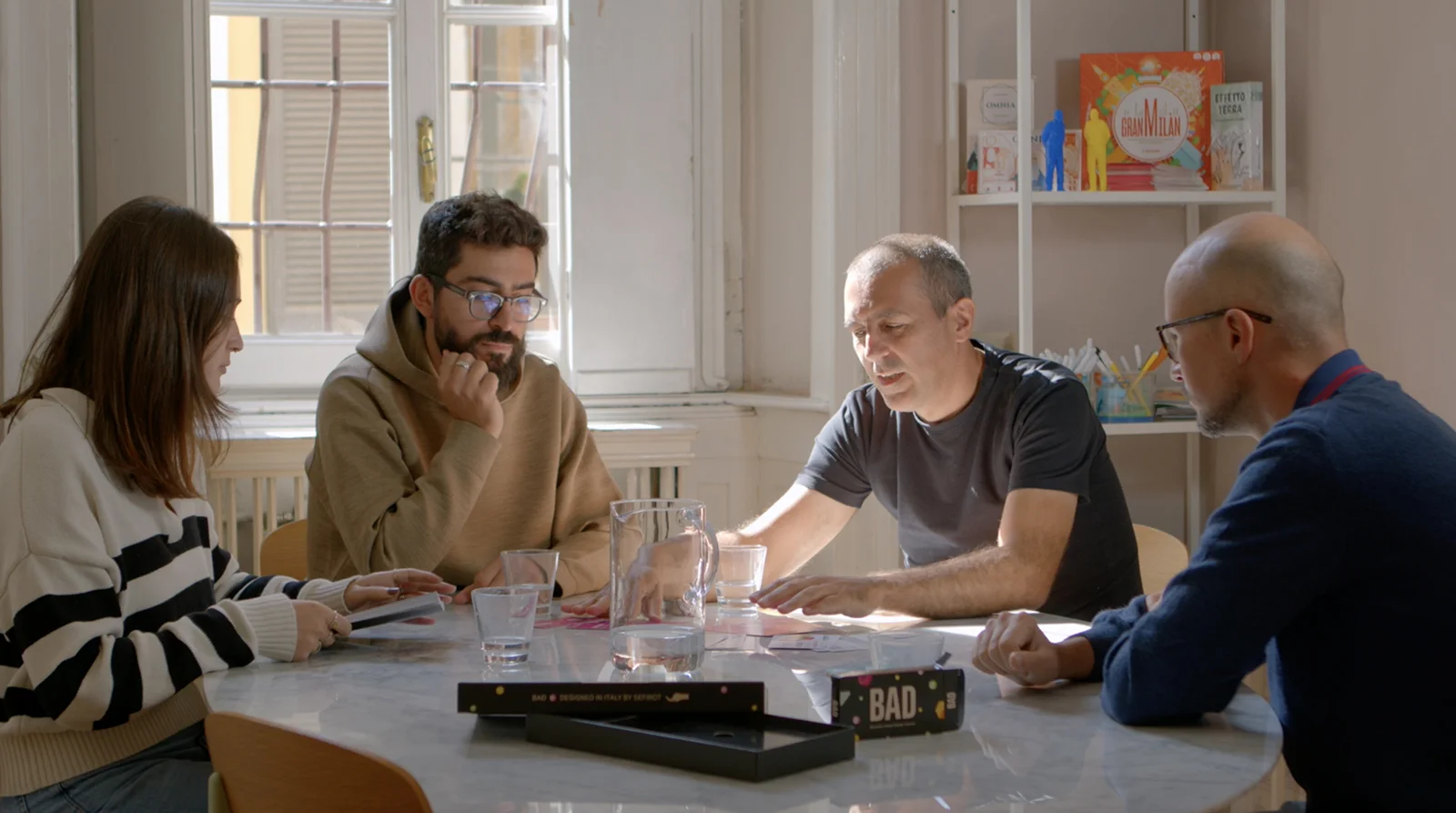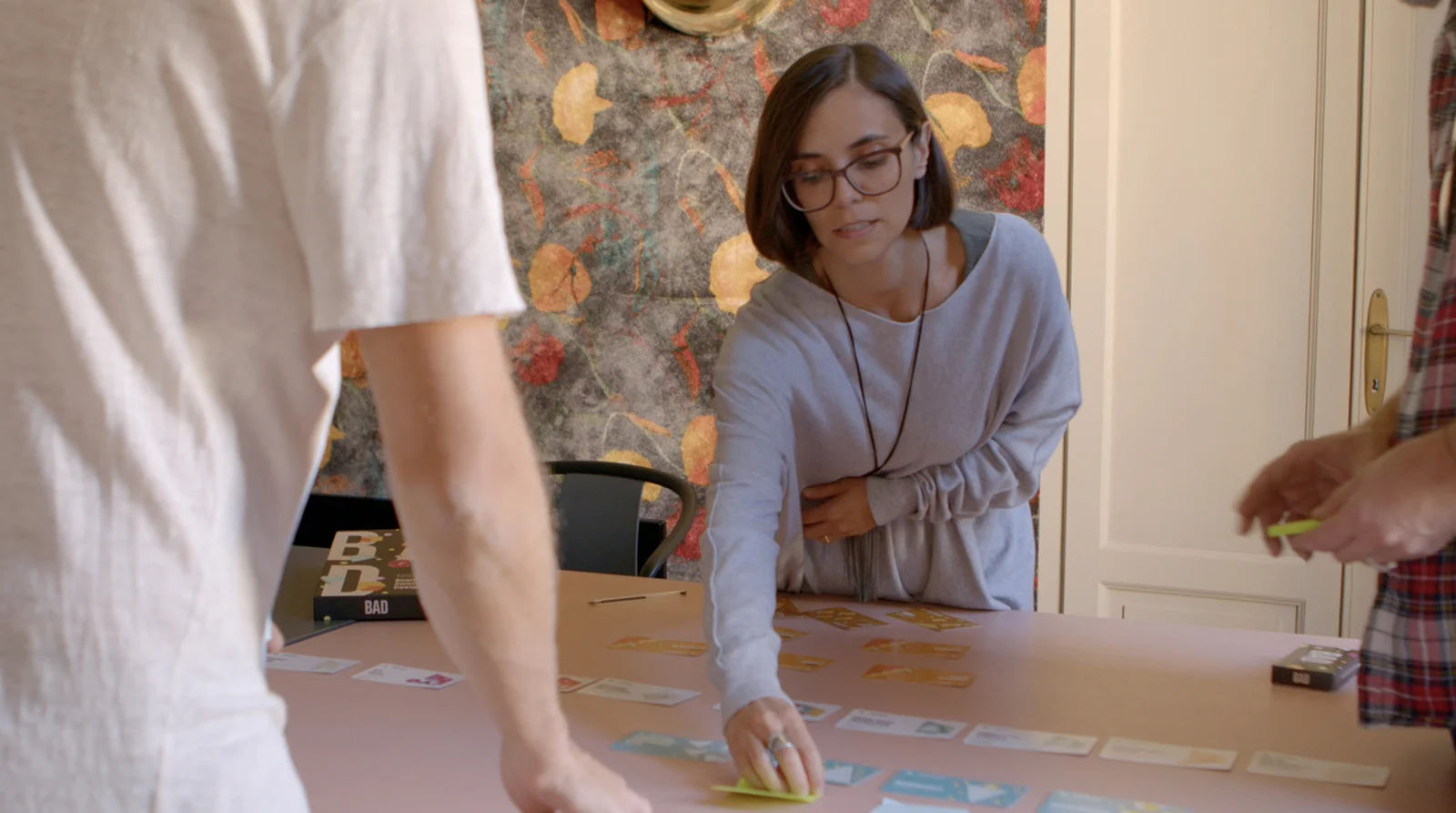 Gold or refund
We are so confident about BAD's results, we placed it under our Sefirot Gold Program.

If you follow BAD for 12 months and you don't find gold (revenue increase, career advancement, new clients), we will give you a full refund 💪
Professionals love it
"BAD is like Design Thinking 2.0. I introduced it in my company and it was a blessing! Thank you."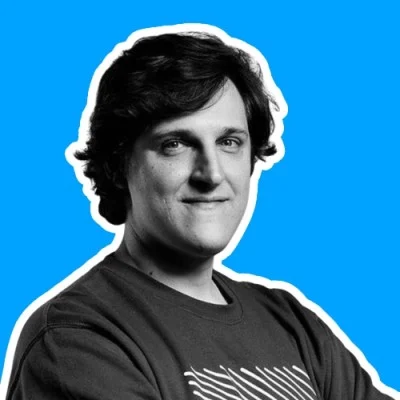 Giovanni Schirinzi, Director @ iMakerbase
Gain your new super powers today
Build a successful project, increase your company revenues, advance in your career and win the competiion.
Yes, I wanna get BAD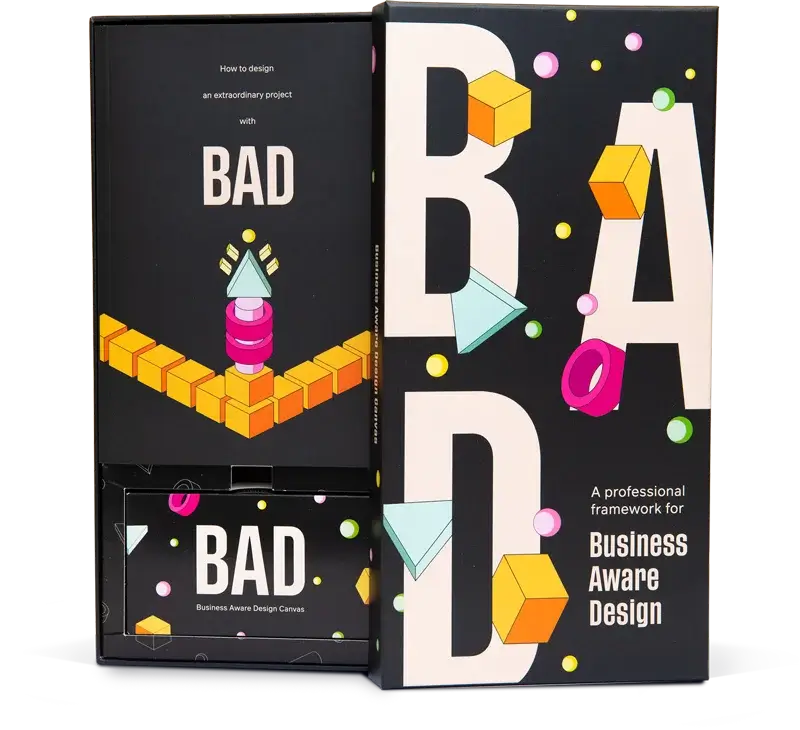 Àbout
We are Sefirot , an independent publisher focused on tools for Creativity. We produce durable, meaningful tools that are now on the desk of more than 100,000 creatives all over the world.

Our works were featured on: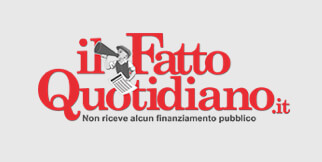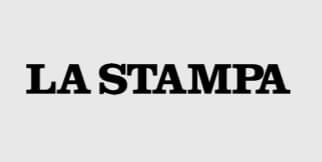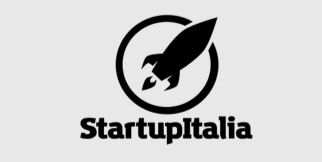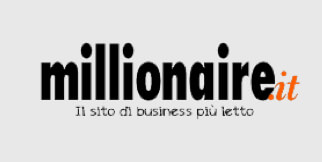 Some of our users work at: